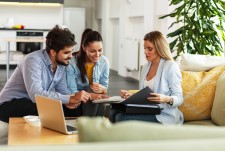 With annual changes to health insurance, there are 3 general ways BenaVest has seen fit for many consumers to save on health insurance costs.
MIAMI, December 10, 2018 (Newswire.com) - With health insurance rules and regulations fluctuating on an annual basis, many health insurance consumers have their eyes peeled this year to find new ways to save. At BenaVest, thousands of clients have been successfully enrolled into Obama care plans for 2019. Through all the changes, 3 ways they've helped people save the most with their health insurance needs became prevalent.
Before getting into the 3, health insurance consumers must keep in mind that the Obamacare (ACA) tax penalty is no longer in place for 2019 health insurance coverage. This allows other coverage options that don't meet the "Minimum Essential Coverage" requirement to play a stronger role in health insurance this year.
On another note, with Navigator Funding being cut throughout the country, more consumers are finding help with licensed health insurance agents that help clients find the best plan that fits their needs. This involves plans outside of the marketplace that may feature a variety of unfamiliar options such as Telehealth, MEC plans and more featured below.
1. First and foremost, silver plans on the marketplace have been a supreme answer to many families' health insurance needs. With the moderate monthly premiums combined with the "cost share reduction" that most families qualify for, Silver Plans have much better coverage than even Platinum Plans on the healthcare.gov Marketplace.
2. A following answer for most health young adults would be Short-Term Health Insurance policies. With these plans having its returned 364-day limit alongside being up to 70% cheaper than qualified Obamacare ACA Marketplace Plans for some, it's a great fit for those not too dependent on their insurance and just need a cheap alternative for the 'what ifs' in life.
3. Most families that do not qualify for a tax credit (subsidy) through Obamacare may find a sweet spot between pricing and coverage with Health Sharing Memberships. There are a few things that make Health Sharing more appealing to the public. One is their ability to enroll all-year round. This allows consumers to enroll whenever they feel ready. Health Sharing Memberships also avoid the hassles of Obamacare, and the Health Insurance Marketplace. Enrollment processes are made easy for families and individuals.
For more information on ways to save on health insurance for families and individuals, visit https://www.benavest.com/
Source: BenaVest | Health, Life & Retirement
Share: