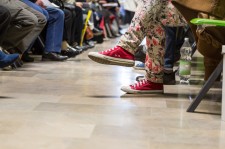 HOLLYWOOD, Fla., June 21, 2018 (Newswire.com) - With the number of patients aging into Medicare every year, it has become an immense task for Doctors Offices and Medical Centers to educate their patients on how to switch from Employer-Sponsored Health Coverage or Obamacare into Medicare. The hassle of presenting the options to patients, finding out what's best for them and getting them enrolled correctly, without a lapse in their coverage, can all be time-consuming and just plain difficult.
With BenaVest, all of these challenges are eliminated with the services they are providing to all Medical Centers and Practices throughout South Florida. With their powerful team of 500+ individual AHIP certified, licensed agents, taking care of the switch into Medicare is as easy as 1-2-3.
BenaVest makes it simple
Doctor & Medical Practices can simply fill out their Provider Form to notify BenaVest of the plans their Practice accepts. BenaVest will assign certified local agents to manage patients that are making the change to Medicare or need a new plan. BenaVest will also supply the Practice with a hotline to avoid all waiting times to get in touch with a live, local agent. A local Doctor in Hollywood, FL says "BenaVest makes it simple, they educate the patient on what type of Medicare option may best suit them, then make sure the Doctors they want to stay with accept the plan. All I do is update their form for which carriers my office accepts."
Following this is another point Doctors Offices and Medical Centers often have to deal with. Making sure patient's premiums are paid. It can become a dreadful routine of calling carriers in order to see if premiums are paid upon the patient's visits, especially if smaller Practices don't already have systems in place to make this easier. BenaVest will also reach out to their clients (the practice's patients) to advise of premium payment needed to keep their plan active.
Once things are in place between the Practice and BenaVest Enrollment Solutions, the Practice can expect nothing less than the recurring crowd of happy patients with the best plan for them.
BenaVest is staffed with certified, licensed agents for Medicare Advantage, Medicare Supplement, Dual Snips, and even ACA. BenaVest also helps practices dominate their competitors for new business opportunities with some free marketing advice and implementation. Get in touch with a company that now specializes in helping Doctor / Medical Practices, transitioning patients from Obamacare to the right Medicare plan that suits the client and their Practices' needs.
Source: BenaVest
Share: