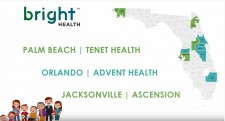 Bright Health is expanding into new territories. For this upcoming 2020 Obamacare Enrollment, Bright Health has expanded into counties like Palm Beach, Orlando, Tampa, and Jacksonville, Florida. Health insurance consumers may look forward to more competitive pricing in these areas when shopping the Marketplace for 2020 Health Coverage.
WEST PALM BEACH, Fla., November 1, 2019 (Newswire.com) - ​BenaVest has opened a new office in light of Bright Health expanding in Palm Beach, Tampa, and Orlando. Bright Health has expanded in Florida, Nebraska, Ohio, South Carolina and North Carolina. In Florida, they are the front runner for some of the best priced silver Obamacare Plans in Florida for 2020. They are shooting to be the price leader in 11 of their 13 most competitively priced counties. Bright Health will most likely have the best priced Obamacare Plan in Palm Beach County, the best priced silver Obamacare Plan in Tampa's Hillsborough County, the best priced silver Obamacare Plan in Orlando's Orange County and the best priced silver Obamacare Plan in Jacksonville's Duval County.
Consumers may find that getting help enrolling in a 2020 Obamacare health plan may be a tedious task due to the U.S. Department of Health and Human Services (HHS) having to cut navigator funding by nearly 85 percent over past years. That left just $10 million in funding to help people in 34 states with coverage over the 45-day open enrollment time span. While ACA aka "Obamacare" has been in the line of fire for the last couple of years, BenaVest is stepping in and adding more locations to help consumers find local Obamacare offices.
With the 2020 Obamacare Open Enrollment Period set to begin Nov. 1, 2019, the 2020 Obamacare deadline stands at Dec. 15, 2019, for 2020 effective coverage, leaving only 45 days to enroll in a qualified plan. Mass amounts of people have piled through the doors of BenaVest's Obamacare Offices and found themselves getting in and out with their new plans in just five to 10 minutes, enrolling through BenaVest's Obamacare agents.
According to the manager of the company's Palm Beach Obamacare Office, Monica Rodriguez, they've adopted the motto of "...we are going to help more people sign up for Obamacare in this shorter time frame. Since we know what to expect every year with the marketplace system having its issues, we know that we may have to stay until 1 a.m. every night to get everyone enrolled."
Find out more about affordable health insurance options at https://www.benavest.com or call (877) 962-8332.
Insurance agents that help people with Obamacare enrollments that are looking to get appointed with Bright Health for Obamacare may visit http://www.insureuniversity.com/contracting.
Source: BenaVest
Share: