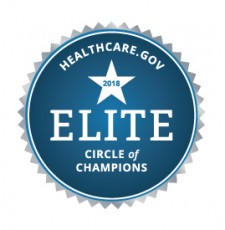 Recently, BenaVest was crowned for helping many people enroll in health care throughout South Florida for 2018 coverage
HOLLYWOOD, Fla., November 10, 2017 (Newswire.com) - BenaVest was recently recognized as one of the top performing agents and brokers in the country by the Centers for Medicare & Medicaid Services (CMS). This nationwide recognition as a member of the HealthCare.gov Elite Champions Circle goes to agents and brokers for their success during the 2018 Health Insurance Marketplace Open Enrollment.
Agents and brokers, who are certified through a registration process in order to assist people in enrolling in health insurance through the Marketplaces via HealthCare.gov, receive recognition when they exceed 100 consumers making plan selections on HealthCare.gov.
"Agents and brokers, like the ones we have recognized, are there for people in the community," said Kevin Counihan, Marketplace CEO. "They help people get the coverage they need for their families, when they need it."
The HealthCare.gov Elite Champions Circle recognizes the hard work of agents and brokers who improve access to health insurance in the community during Open Enrollment. Agents and brokers in the Elite Champions Circle go above and beyond to enhance the community through service to their customers. These exceptional agents and brokers help CMS connect to and meet the needs of these consumers. To hear more about Marketplace Open Enrollment via HealthCare.gov, you can contact BenaVest at 877-962-8332 or by visiting their health care enrollment site at http://www.ezhealthmart.com.
Source: BenaVest
Share: