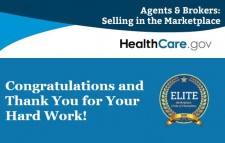 BenaVest was recently recognized by CMS and joined the Elite Circle of Champions by helping people enroll in Obamacare and beat the Obamacare deadline.
HOLLYWOOD, Fla., December 7, 2018 (Newswire.com) - Benavest's Obamacare help center was recently recognized for the third year in a row as one of the top performing agents and brokers in the country by the Centers for Medicare & Medicaid Services (CMS). This nationwide recognition as a member of the HealthCare.gov Elite Circle of Champions goes to agents and brokers for their success during the 2019 Health Insurance Marketplace Open Enrollment.
Agents and brokers who are certified through CMS's training process in order to assist people in enrolling in health insurance through the Marketplaces via HealthCare.gov, receive recognition when they exceed 100 consumers making plan selections on HealthCare.gov.
"Agents and brokers, like the ones we have recognized, are there for people in the community," said Kevin Counihan, Marketplace CEO. "They help people get the coverage they need for their families, when they need it."
The Obamacare deadline stands at Dec. 15, 2018, for 2019 health insurance coverage. Mass amounts of people have piled through the doors of ezHealthMart's (a BenaVest subsidiary) Obamacare office locations and found themselves getting in and out with a new plan in just 5-10 minutes through their ACA enrollment platform. According to the manager of the company's Hollywood Obamacare Office, Adelfa Arriaga, they've adopted the motto of wanting "...to help more and more people enroll in Obamacare in a shorter time period since the enrollment period has been cut in half. If that means staying until 1:00 a.m. every night then so be it."
At BenaVest's Obamacare Enrollment Centers, they also have local Obamacare agents that are bilingual in multiple languages. These agents will help people apply for Obamacare and get through the difficult application in minutes, help them upload any documentation the marketplace may request, and also help them make their first payment if necessary.
For more information on where to find help with the enrollment process, visit Benavest's partner-website for health insurance enrollment at https://www.ezhealthmart.com or call 877-962-8332.
Source: BenaVest
Share: