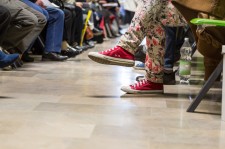 ezHealthMart Enrollment Centers are enrolling plenty of people that are in need of insurance. Find out why now is the perfect time.
HOLLYWOOD, Fla., November 20, 2017 (Newswire.com) - With less than a month left before the Obamacare Deadline, ezHealthMart's Obamacare Enrollment Centers are enrolling people fast and in big numbers with the new system and software they're using to enroll. Mass amounts of people have piled through the doors of ezHealthMart's Enrollment centers in South Florida and found themselves getting in and out with their plans for next year in just 5-10 minutes with the ACA enrollment platform. According to the President of the company, Joseph Gannon, they've adopted the motto of wanting to "help more people in a shorter period of time sign up for Obamacare or change their Health Plan." Quick and easy is the way it is done at their Enrollment Centers located throughout Dade and Broward County Florida. Some days, even having lines that go outside the shop aren't that bad. One customer said that "It felt like a breeze," with the new ACA platform that the enrollment center has become well-acquainted with.
With Dec. 15 the last day of 2018 Obamacare Enrollment, many people wanting to get insured seemed to choose the enrollment centers over other approaches to get insured for 2018. The efficiency to get a health insurance plan seems to be inimitable with the Obamacare Enrollment Centers. Other ways such as HealthCare's website with their phone line has waiting times up to three hours long, and other enrollment centers even take up to two hours of waiting time before settling people with their enrollment system. The ezHealthMart enrollment centers set up are also filled with State Licensed Certified Agents by the government, so people can be sure to come in and sit down with a professional that will find the right plan.
"Pricing, Benefit Plan, and the Plan Network," Joseph said. "You really have to find a good combination of all three and that's not so easy. There are many insurance companies that do not have contracted doctors in certain areas and so while the plan and pricing might look good, there might not be a doctor in the plan's network that is in their area. So what good is a great health plan if you cannot see a Doctor?"
For more information on where to find help with the enrollment process, visit ezHealthMart's website. The Obamacare Enrollment Assistance Center in Miami has several different locations and they also offer help over the phone. Go to their website or call them at 877-962-8332.
Source: ezHealthMart
Share: