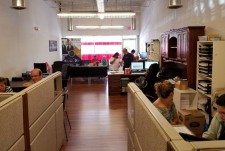 While many expected trouble for the opening day of Obamacare health Insurance, at one of the main enrollment centers in Broward, people were in and out with a plan quickly and efficiently for 2018.
HOLLYWOOD, Fla., November 2, 2017 (Newswire.com) - ​With the opening day of Obamacare Enrollment finally here, Enrollment Centers have been packed with customers trying to get themselves situated for next year, knowing there's only 45 days to enroll. With the time-frame cut to Nov. 1 - Dec. 15, 2017 and minimal government advertising, many may go without 2018 coverage unless these changes were shared with them. Although there are many changes, one thing that has improved is the enrollment process.
ezHealthmart, the largest Private Health Insurance Agency in Broward County with physical locations, has lines out the door moving quickly with their enrollment software. People can sit down with a licensed agent and leave with insurance within 10 minutes. While pricing went up slightly for some, the majority of customers left with a cheaper plan due to subsidies rising with the overall pricing of their new plan. One customer said, "(enrolling) was a lot easier than I thought. Better than last year for sure!"
If clients decide to do nothing with their current plan, they risk getting automatically re-enrolled in their extremely pricey plan or being stuck with a government-chosen plan that is "most similar" to their previous plan.
ezHealthMart has 20 physical Obamacare locations with over 500 qualified state-licensed insurance agents helping people enroll in person or online with real-time Obamacare Quotes. Their main enrollment centers are in Hollywood, Miami and West Palm Beach. Experts are helping people choose the right plan by looking at three key factors.
"Pricing, Benefit Plan, and the Plan Network," the owner, Joseph said. "You really have to find a good combination of all three and that's not so easy in this market. There are many insurance companies that do not have contracted doctors in certain areas and so while the plan and pricing might look good, there might not be a doctor in the plan's network that is in the consumer's area. So what good is a great health plan if you cannot see a doctor?"
At ezHealthMart's Obamacare Enrollment Assistance Centers, there are no long lines and the new ACA software will have customers in and out within 5-10 minutes. They also have Obamacare agents that are bilingual in multiple languages. These agents will navigate applicants through the difficult application in minutes, help them upload any documentation they may need, and also help them make their first payment if necessary. The ezHealthMart motto is quality, combined with efficiency.
For more information on where to find help with the enrollment process visit this ezHealthMart's website. The Obamacare Enrollment Assistance Center in Miami has several different locations and they also offer help over the phone. Go to their website or call them at 877-962-8332.
For more information, please visit http://www.ezhealthmart.com.
Source: ezHealthMart
Share: