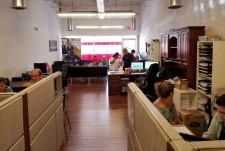 New plans are on the market and ready for 2018 enrollment. The bad news, says ezHealthMart, is that projections show total enrollments for 2018 will be -1 million in comparison to 2017's 12.2 million enrollments
HOLLYWOOD, Fla., November 8, 2017 (Newswire.com) - After the 2018 enrollment period opened with the new plans available to the public, ezHealthMart has been signing up hundreds of clients every day. After some time, the following trend of higher premiums but higher subsidies was apparent. These subsidies have shown to give more people Obamacare plans for a very low monthly payment and in some cases $0.00 a month out of their pocket. One of their clients, Jim Worthy, at their Hollywood, Florida location said, "I was totally confused before I came here. I thought the subsidy had been taken away from the Obamacare plans but I found out that it hasn't and I only pay $35.00 a month which is less than I paid last year!"
With that being said, studies still show that there will be less enrollments for this year compared to last. There are a lot of gray areas that haven't been widely announced for the public as far as this enrollment. The 45 day enrollment period (Nov. 1 - Dec. 15, 2017) is still a surprise for many, and while everyone knows their premiums were rising, very few knew the subsidies were rising too.
"As far as we believe," said Steve, a licensed healthcare agent, "the tax penalty is still in place and will be in place this upcoming April for those not having 2017 health insurance. While a long shot, this may possibly change for 2018."
CAP's report said that 12.2 million people (the same number as 2017) would have likely signed up for 2018 plans "in the absences of ACA sabotage" by the Trump administration.
You can find more on Obamacare Dates & Deadlines and how they will affect health insurance in 2018 at http://www.ezhealthmart.com.
Source: ezHealthMart
Share: